Top Things You Should Know About Ontario's Reopening (Updated May 21st)
Ontario's Government has just recently announced a relaxation of the restrictions imposed in early April. A large part of this reopening will rely on each business doing their part to ensure proper disinfection and social distancing measures are being adhered to.
To help you quickly understand what you need to know about Ontario's reopening framework, we have put together the top things you need to know about Ontario's reopening framework:
Golf courses, tennis courts, and other outdoor recreational facilities will be reopening:
Beginning Saturday, May 22nd, the province will reopen golf courses, skateparks, basketball courts, and other types of outdoor recreational facilities.
The province has outlined the plan for reopening in 3 steps:
These 3 steps are outlined as follows:
Step 1 will happen 2 weeks after at least 60% of Adults are vaccinated in Ontario. Could be as soon as June 14th
Step 2 will happen as soon as at least 70% are vaccinated with 1 dose, and 20% with 2 doses.
Step 3 will happen as soon as 70 – 80% are vaccinated with 1 dose, and at least 25% with 2 doses.
What will open in each step?
Step 1:
Non-essential retail stores will be allowed to reopen with 15 percent capacity.
Outdoor gatherings of up to 10 people will be allowed.
Outdoor dining, with up to four people per table, will also be allowed.
Restrictions will lift on camps, campgrounds, and provincial parks, as well as outdoor pools and splash pads.
Step 2:
Indoor religious services can also resume at 15 percent capacity.
Essential retailers allowed 50 percent capacity and non-essential 25 percent.
Outdoor amusement and water parks can also reopen.
Outdoor cinemas, performing arts, live music, events, and attractions can also being to operate again.
The government said this step will allow for indoor gatherings of up to five people, along with outdoor gatherings of 25 people.
Outdoor sports and leagues can resume, along with personal care services, where a face covering can be worn.
Step 3:
Larger indoor gatherings will be allowed, although at this time there are no numbers associated with the statement.
The 3rd step also includes a return to indoor sports and recreational fitness, indoor dining, museums, art galleries, libraries, and casinos.
Schools to remain closed:
At this point there is a small chance that schools will reopen, as Doug Ford would "Like to reopen schools", but he will heed the advice of the medical professionals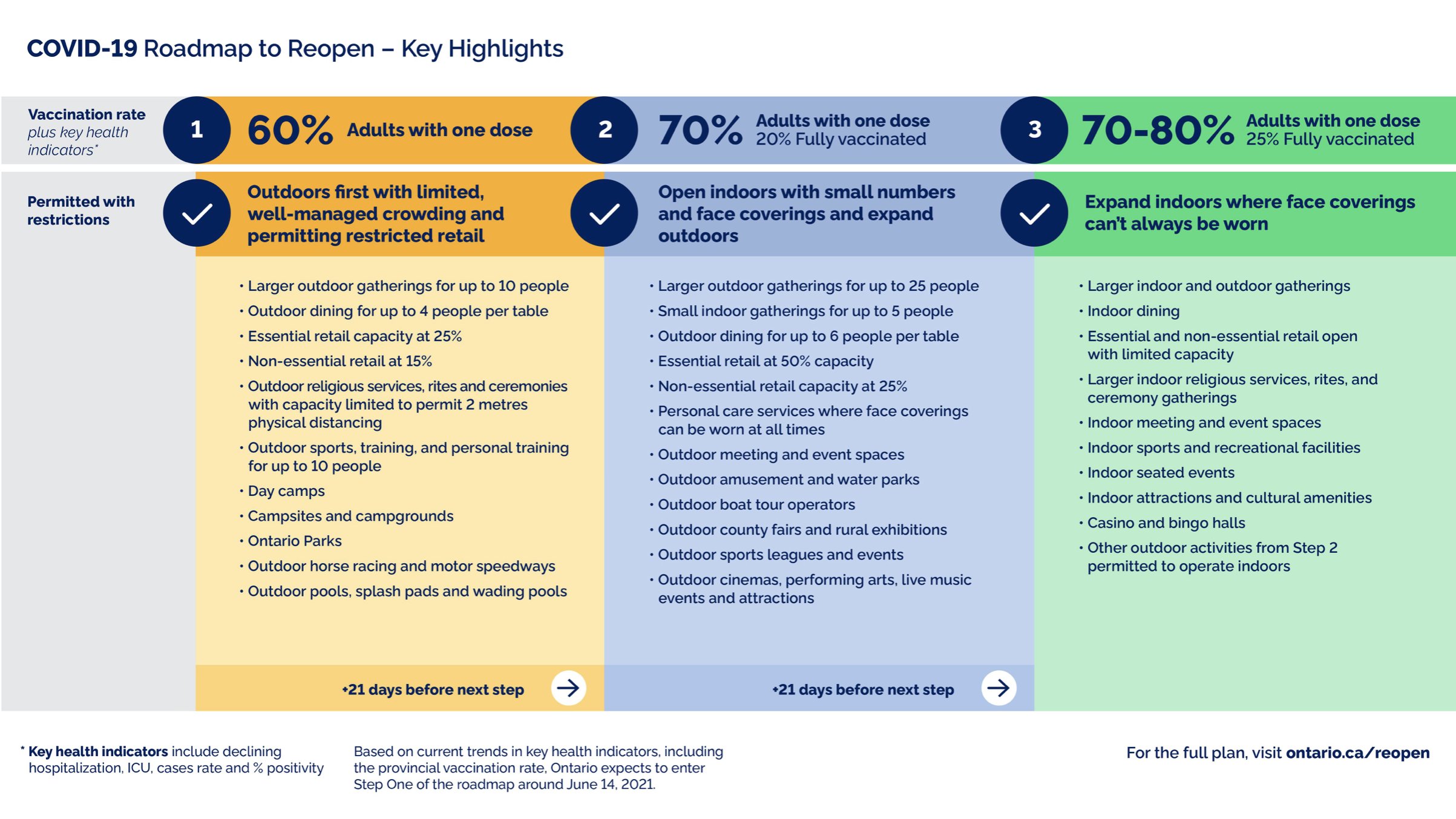 We hope that this article has given you what you need to know. We continue to be a trusted source for information and supplies in the fight against COVID19. For any of your wipe, PPE, Sanitation, or fogging needs, please click on the links or contact us!
For more information, please call us at 855 348 9473 or email us at marketing@roxtonindustries.com